Learning management system is a powerful method that handles all aspects and processes of learning. Sparkeduportal is a software system that allows our users very easy to develop, manage, and deliver e-learning courses. Our technical partnership tool allows teachers to develop and manage instructional content, define and assess individual training goals, monitor progress towards these goals, collect and present data for individual learners, and the organization as a whole. Which will be a game changer for e learning in India .
Our server portion that performs the core functionality (creating, managing and distributing training courses, authenticating users, and serving data and notifications).We provide the best user-friendly interface for administrators, instructors, and students to manage their work easily.

How Sparkeduportal works?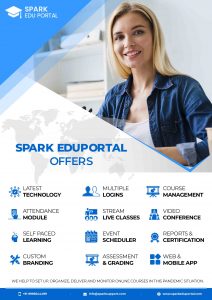 Our Learning Management System facilitates any organization to develop their courses, provide them with unparalleled scope and flexibility, and manage their continued use over time.
Sparkeduportal lets users develop content on eLearning (lessons), Prepare the material into training courses, Send the content (to the staff/students personally, or a broader internet audience). Our program also makes it very easy to enroll students in courses and track and assess students (e.g. attendance, grades) through our built-in features.
Sparkeduportal also provides students social tools such as threaded discussions, video conferencing, and discussion boards, live streaming, etc.
What makes Sparkeduportal unique in e-schooling ?
The e learning has historically been used in educational institutions. Learning management solutions have been used to conduct coursework in schools for many years. In the past two decades, however, more and more businesses are using e learning in India which provide instruction to their staff internally, as well as to consumers externally.

In this scenario, one of the following could be using an e learning for a business that includes sizes, ranging from large multinationals to small and medium-sized enterprises. Organizations, including non-governmental organizations and non-profits. Also government agencies (municipal, provincial and/or federal) for various purposes and traditional educational institutions

Content creation
content creation is the first step in using an LMS. The course materials can be made inside the LMS or by importing external materials, presentations, or live videos. Another choice open is to have the course designed by experts through some providers. That can cost more investment, but often the company's benefits far outweigh the extra expense. Skilled e Learning programs like ours appear to be of top standard, with better values of output and contain more additional features. providing a good product will increase retention and engagement among the students. There is also the possibility of reselling the software to other businesses or students.

Courses are organized
After developing the e Learning content the next step is to arrange it. This can be as simple as offering a single course, or as complicated as offering multiple courses in a particular sequence and only to certain groups of students.
We also allow clients the freedom to organize their e-learning according to their needs and requirements or LMS offers a range of management resources that can be used in several ways to give customers flexibility in the delivery of lessons around the world.
Course Arrangement
Courses are administered according to the organizational needs of the students. They can determine the users based on the criteria and can also provide different programs based on paid and free trends for the students.
Through our LMS organization, vast numbers of students can be easily managed to enable them to get all kinds of apps based on their needs. We also provide apps for all types of mobile devices, with responsive user interfaces, touch-friendly interaction, and mode offline access.

User Management
In a learning management system, there are primarily three categories of users, i.e. students, instructors, administrators. The administrator is the person setting up and configuring the LMS for a company or organization. The instructors are the individuals who plan the classes, and who track the progress of the learners. The administrator or instructor might be the same person in a smaller enterprise or organization.
Learners might be employees of a big company, government agency, or private business, or students enrolled in a school 's courses that offer lessons to them. Handling users involves registering them in the LMS, assigning them to classes, communicating with them as teachers, deciding what kind of content they are permitted to see, arranging assessments and conference sessions, grading them, and managing them.

Evaluating the progress of the students
One of the essential aspects that we offer (and a major time-saver), is the way to detect and manage the progress of the students in real-time. When dealing with 10 students or 10,000, Software provides administrators with easy, automated access to data on enrollment, attendance records, grades for students, and many other performance metrics.
We also provide real-time updates and reminders, such as letting instructors know that a student has submitted his homework or is about to begin an e-conference session, etc. Tracking is another must for advanced LMS systems. An LMS should be able to query and view data in graphs and charts, enabling administrators to identify patterns or problems quickly.

Whiteboard: Accessibility of the online whiteboard, so teachers and students can produce and exchange writings and drawings in real-time.

Enhanced Protection: To ensure data security, solutions have a single sign-on, advanced authentication, and firewalls.


Sparkeduportal is a learning management platform used to provide online training and education. It helps users to deliver content, coordinate classes, manage users, and track multiple user progress along with advanced learning features such as video conferencing, live streaming, etc. The future of e learning in India is Sparkeduportal which Transforming traditional classrooms to virtual classrooms.